digital screwheads

Welcome to LeeLawsonDJ.com, the OFFICIAL website of Houston, Texas based DJ, Lee Lawson. Welcoming old and new screwheads to the party, the site has been revamped and streamlined. Not only will you find music, but also history and a bit of knowledge. Be sure to follow Lee Lawson on SoundCloud and Twitta for the latest bits, snips, mixes and up-to-the-minute news. So kick back with your blunts, bowls, drank, (or some tea if your not about all that other stuff) and get ready to relax as Lee Lawson spins out these movies for your ears.
last updated 06-24-20

Opened a YouTube Channel: Lee Lawson DJ
Ya'll know ya'll be bumping YouTube, subscribe! I'll be posting rarities, favorites,
and exclusives INCLUDING instrumentals and other production work!
The 420 Mix is in!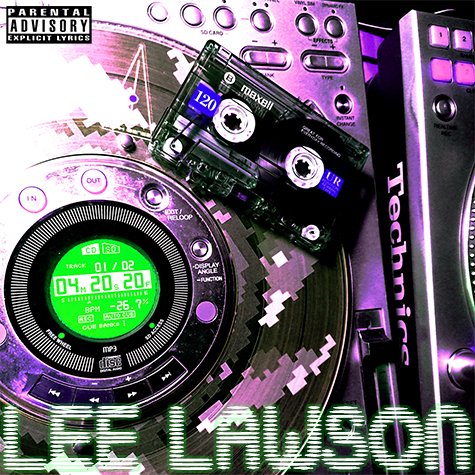 Click the image to stream now. Click HERE and get a ZIP folder. Tracklisting:
Smoke sum!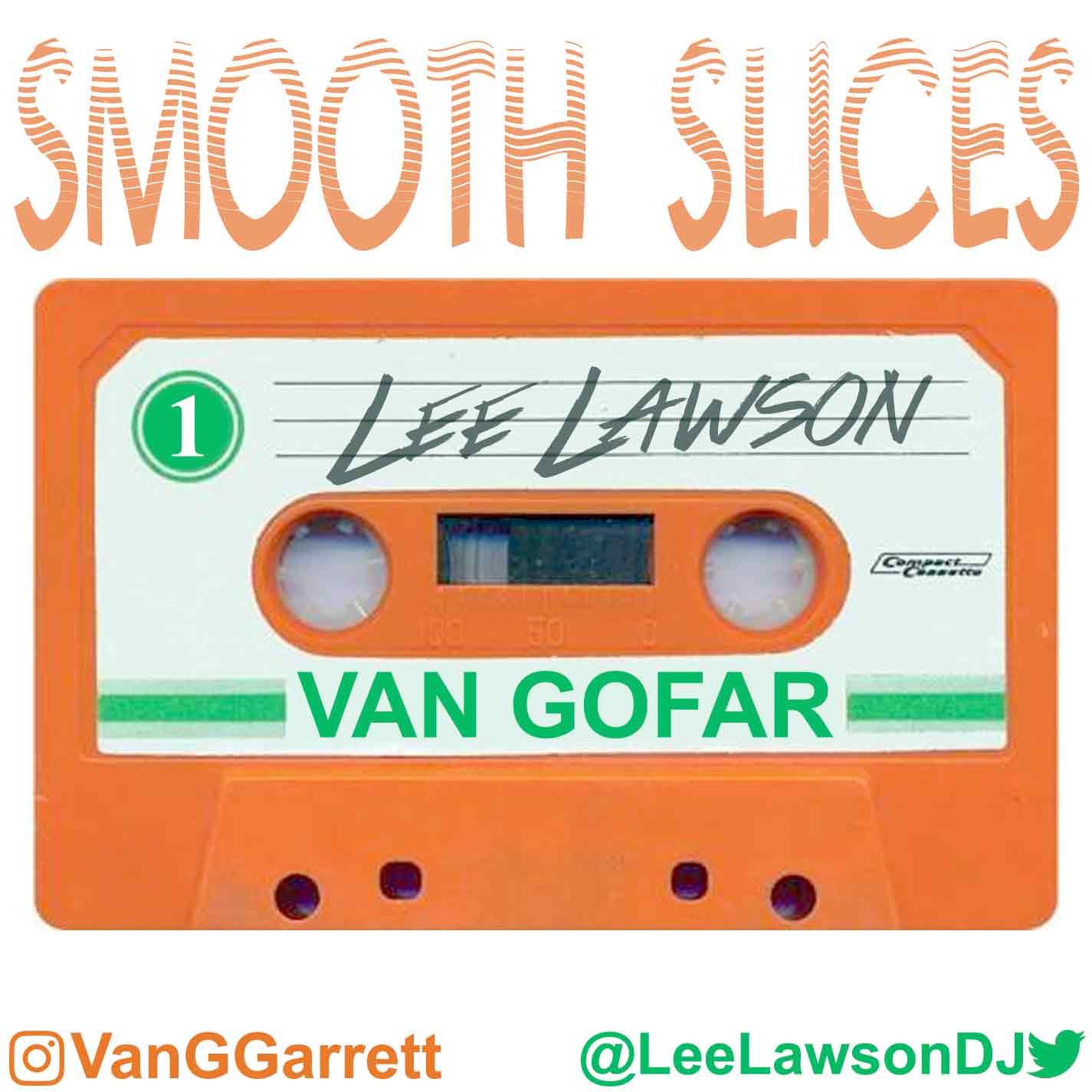 Happy New Year!
I teamed up with local Houston-based spoken-word artist and writer Van G. Garrett to put a lil' mix together to ring in the new year with. We took turns with selections to create this smooth mix, hopefully the first of many. Van drops a new book this month, and he's even dropping some words on this tape, so stream the whole mix now HERE
and for you iPod heads download the track-for-track ZIP folder HERE. (121MB)
Don't forget to subscribe to my YouTube. I've been uploading.
Mixtape ReIssue
11 Years ago I did this tape series called the BURNER. I never released them wide, just for close friends and smoke buddies. So cleaning out the archive I found a prestine copy of the BURN3R 3. I previewed it and it's not too bad. Trainwrecking is at a minimum and it ain't bad cuz this was when my editing was at a minimum, mixes were strictly done in one take.
A lil' something for you. We just elected an asshole for president, but we been actin' a ass down here for a while.
Tracklist and FREE Download link below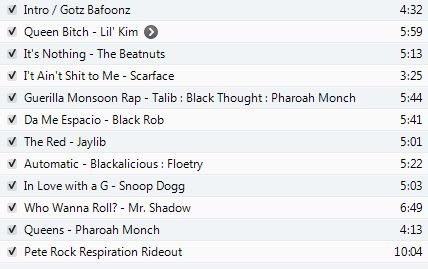 Right-Click HERE then Save Link as...
ZIP File - 143MB
Been Getting Mad DMCA notices on DatPiff, so some tapes won't stream anymore.
Enjoy while you can. Download and Upload to Youtube. Let's keep it alive.
NEW POCAST
Sure, everybody's doing podcasts these days, but my die hard fans know I been doing them shitz before you even new what a podcast was, now I'm back it. Anyway, I started this new sound project called:
SHUFFELAPOD
Currently I have 60 gigs (10,000 sum songs) but as of this update is up to 120 gigs (15,000 songs) of music and I've been running the iPod on shuffle. In my studio everything runs to a tape deck, so lately when I hear a particular song, solo, break or sample I hit record on the deck. Rinse repeat until the tape fills up. I then dub the tapes for your listening pleasure.
ALL GENRES, ANYTHING GOES
You may hear some classic stuff, you may hear some new stuff, you may hear some weird stuff; soothing, challenging. And with that classic tape hiss on the track, sounds analog as hell. Take a listen. I'm hoping this will get you excited about music. It does to me. If you like something, pull out a song-detecting app and dig deeper.
DOWNLOAD and ENJOY.
Cover art included.
Each is about 210MB. The two hour tapes are about 280MB.
To DOWNLOAD: Right-Click--->Save Link As...

Stream Right Now: Right-Click--->Open in New Tab

Live streaming video by Ustream
Live Right Now!

What's up East Coast? What's up West Coast?

It's all REAL.

Lee Lawson in New York

All New York raps, slowed down Southern style.

tracklist:

- Live from Planet Crooklyn
- You Don't Know Shit About CHOP
- Wu-Tang Clan - Winter Wars
- Statik Selektah, N.O.R.E., Lil' Fame - East Coast
- Coka Nostra, DJ Premier - Mind Ya Business
- Guru - Transit Ride
- NaS - LIVE at the BBQ Remix
- Yasiin Gaye - Inner City Travelin' Man
- Skyzoo & Torae, Guilty Simpson - All in Together
- Mobb Deep - Get Down
- Q-Tip, Busta Rhymes, Raekwon, Lil' Wayne - Renaissance Rap Remix
- De La Soul - The Pitch (Da.I.S.Y. Remix)
- Public Enemy - I Shall Not Be Moved
- Redman, Ready Roc - Sourdeezal
- Statik Selektah , Troy Ave, AG da Coroner - Big City of Dreams
- Talib Kweli, Res - What's Real
- Worlds Fair - V.S.O.P.
- Cannibal Ox - Iron Galaxy
- Junior M.A.F.I.A. - Player's Anthem Remix
- Ghostface, Raekwon, Fat Joe - Clientele
- Pete Rock - Escape from NY conclusion

FREE TO DOWNLOAD

SHARE & RETWEET
Tracklist:
Ribs and Salsa Music intro
Killer Mike & El-P - Butane (Champion's Anthem)
J-Zone (Swagmaster Bacon) - Mo' Pork
Devin the Dude - Hope We Don't Get TOO Drunk
The Boss Papa - RZA verse
Earl Sweatshirt & Tyler, the Creator - WHOA
Breeze Brewin' - Dear Autumn
D-Henley - Sunset Grill (snip)
RJD2 - Winter Isn't Coming
Blu - Never Be the Same
2Pac - Str8 Ballin'
Paul Wall & Chamillionare - The Other Day
Make Believe - Freddie Gibbs & Static Selektah (Pete Rock Lumdi Remix)
Are We Having FUN Yet?
Botany Boys - I'm Just a G (Feelin' It Remix)
Duece Mob X Washed Out - Northside Playa (All Around Ya Blend)
Washed Out - Feel It All Around
Prefuse73 - Perverted Undertone
Blu - Spring Winter Summer Fall (1st Verse)
Earl Sweatshirt & RZA - Molasses
chronic break
Devin the Dude - Stop Waitin'
Beastie Boys - Hi-Plains Drifter (Stylistics Remix)
Nas - Second Childhood
Track list:
Mr. Porter - Overthinking Art
Z-Ro - One Night (Trae verse)
Ludacris X Z-Ro - Child of One Night (Nate Dogg hook)
Lighter Shade of Brown - Gonna Give it To Ya (World Blend)
Biggie - The World is Full of...
Too Short verse X Mr. Porter's Shakur 4 Da People
A Tribe Called Quest - Lyrics to Go (Headnodic remix)
Headnodic - Take Flight
Lighter Shade of Brown - Hey DJ
Snoop Dogg - Too High (Poly High)
Headnodic - Ponderance
Herbaliser - Shattered Soul
Wu Tang Clan - Bring da Ruckus (Herbal blend)
J-Zone - The Drug Song Remix
Duece Mobb X Blu - Never Be the Same ol' Northside Player
Z-Ro verse
Prefuse 73 X Mtume - Uprock & Juicify
Biggie - Sky's the Limit (beat)
Prefuse 73 - Choking You
Statik Selektah, Action Bronson, Joey Badass - The Spark
Hednodic X Pete Rock - Boogaloo (Mind Blowin') Stuff (uncut)

Hey, it's no longer up. But maybe one of your online peers downloaded it and uploaded it somewhere else? Be back soon, maybe.

Emporium [You Cool Man?]
Magical Intro
Magic [Erk tha Jerk]
Success [Jay-Z, Nas] (9th Wonder Remix)
It's Raining Clouds [Blockhead]
classical interlude
Classic [MED, Talib Kweli]
Never Give U Up [MED]
Soul Survivor [Pete Rock]
3 Dollars [MF DOOM, Oh No]
ride the break
Ridin' [A$ap Rocky, Lana del Rey]
Me and My Bitch [Domo Genesis] (Trans Remix)
Trans [J_Davey]
clean the ash tray
Flickin' Ashes [Wiz Khalifa]
Smokin' Chicken [Eightball & MJG]
Codeine Machine __ Shouts
Natural High [Freddie Gibbs]
The Highest Commitment [Qwel]
the Secret of the Forest [Compromise]
Good Friday [Why?]
Sultan's Request [Flying Lotus]
I Don't Wanna Be Alone [Devin the Dude]
future thrilla [interlude]
Fashion Killa [break]
It's 420 [ALT, Mr. Gee]
In the Bar [2 Risky] (underground mix)

Available ONLY in Torrent.

Peep some of the tracks from this tape on the SoundCloud - look for the art above!
| | |
| --- | --- |
| | |
| | All these in this one torrent. |
---©2009-2020 LeeLawsonDJ.com---